It's been a few years since I set goals for the year. After getting cancer the second time, in 2010, I unconsciously tied the value of my life to the success of TeamWILD. All of the goals I set centered on TeamWILD. I became completely focused on TeamWILD, to the harm of the rest of my wellbeing. When it became clear to me that TeamWILD wasn't doing well and we would need to close, and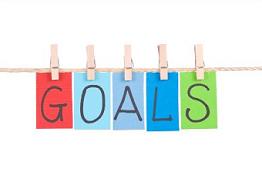 , I had over the years, invested nearly all of my savings and retirement in TeamWILD and thus lost all of that, a big part of me felt my life wasn't worth anything anymore.
I now understand that I suffered from a bad case of PTSD from that second cancer experience, aggravated by the trauma I survived as a child. I don't suffer from massive depression, and for that I am thankful. Nonetheless, I did give up. And I took action to end my life. The gods decided that it wasn't my time, and miraculously, I survived. I did spend nearly five days in a coma, and I suffered and still suffer from brain damage. Luckily, because I meditate nearly every day, and because I know the power of visualization and practice visualization, I have retrained my brain. And every day I can tell that my neurological pathways are finding new ways for my brain to work.
In addition, because of what happened, I have made significant changes in my relationships with many people. Most of all, I have learned to listen deeply to myself and to the wisdom within. I take much better care of myself. I am calmer and more centered than I have ever been. There are days when I feel lonely and lost, and I have learned to breathe into that and to remind myself that lonely and lost are real, and they are illusions.
And I am now committed to living. More than I ever have been. I have realized that I am unraveling generations of dysfunction. It is worth it to hang in here and do the work that my soul signed up to do during this lifetime.
This year, 2015, I will turn 50. And to celebrate this milestone, I decided to set 7 goals. Seven is a magical number, and I have always believed in magic. I know that all seven of my goals can be achieved. Each month I will take steps toward these goals. Slowly and surely I will make my way, and the joy is the journey.
I've realized the Universe, or God, or the Great Spirit, wants all of us to succeed. Once I set these goals and sent them out, beautiful, surprising things started to happen!!! Connections opened up, phone calls happened, energy shifted.
May 2015 be a year of blessings and love for all of us!!