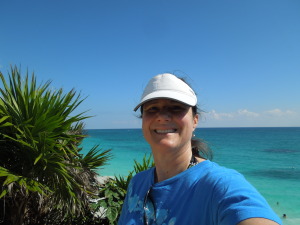 The first time I went to Tulum was at the end of the semester I studied in Mexico City. It was in 1986. Tulum is an ocean side Mayan ruin that was a center for trade. It is a significant city in that it was the only ocean access city that the Mayan's built. Also, it was built with walls all around it. Tulum flourished between the 13th and 15th centuries, and it faded only about 70 years after the Spanish started conquering Mexico. It is believed that between 1,000 and 1,600 people lived at Tulum.
On my recent trip to Mexico, I took a day trip with a guide and a group. We went to Tulum, to Coba, and to a cenote, which is an underground cavern. The one we visited was great for swimming, but I didn't go into any caves! Alfredo was our guide and he was wonderful! He spoke to us in English, Spanish and French! He had lots of interesting facts and he kept us laughing and feeling great about the excursion.
I've had a fascination with the Maya since I was a Latin American Studies major in college. I find the ruins to be energetically compelling. It's as if I can still feel the rituals and pace of life from way back when the site was lived in by the Mayan people. Going back on this trip was magical!!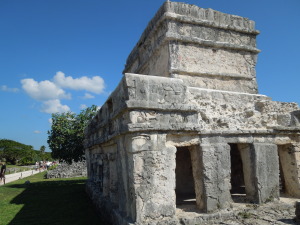 On the trip, I met Yang Xu and his wife. They live in Chicago and Yang works on the contact lens that Google has expressed interest in developing for people with diabetes. The lenses that would tell the wearer what their blood sugar level is!! Yang works in computers, specifically in WiFi technology!!! He's working to get the contact lens to talk to a smart phone, and do it for an affordable price. WOW! You just never know who you'll meet in the world! Yang took the pictures in Coba.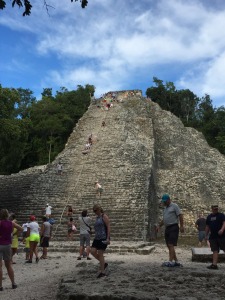 I have a fear of heights, and climbing up the temple at Coba was all I could handle!
Enjoy the photos! I wish you were there with me!!