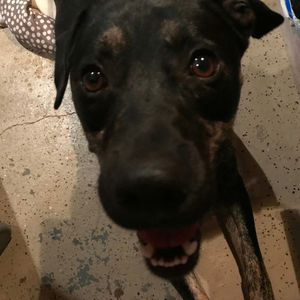 Yesterday, my first Wednesday with my new canine Sammy, I did my first run with him. Sam is somewhere between 1 and 2 years old. I've got a rabies vaccination certificate dated February 27, 2018, that says he was 18 months old, which would make him 2 years old now. He's from Arkansas, and he landed in Minnesota at the Animal Humane Society last week, along with 400 other dogs who came up from the south. YES, that is a LOT of dogs.
The Animal Humane Society says that Sam is 1 year old, plus a few days. So, really, likely no one knows exactly how old he is. He knows sit and come, but that's about it. He's a Rottweiler mix and he weighs in at 45 pounds. He doesn't have heart worm, his teeth are as shiny clean as can be, and I can tell he's quite smart.
Sammy boy is my fourth dog. My third dog, magical, lovable Echo, died on October 8th, 2017 and it took me until last Saturday to gather the insight and strength to get another pup. In fact, I had gone to Target to pick up my insulin prescription, and I walked by the dog food section and I burst into tears. For the record, I am not a public crier. I took a deep breath and let the tears fall. As I stood quietly in the dog food section, I felt a calling. It was crystal clear. It beckoned me to drive over to the Animal Humane Society NOW.
I finished up at Target and got in my car and headed over to the Saint Paul Animal Humane Society. I kept telling myself, "Not today. Wait until after you get back from Colorado. September is soon enough to get a dog. You're just going to look. THAT'S ALL for today!"
The moment I saw Sammy (named Scooter by the various shelter's he's been at) I fell in love. I knew I was a goner. And he was a keeper! I called my housemate Liz and she came back to the shelter later that afternoon with me to meet Sam. She liked him! Then the next day, Sunday, after I did a practice of the YWCA triathlon I'm doing this coming Sunday, I got back in my car and went and officially adopted Sam (and I changed his name!)
Being the slight over-achiever that I am, I got us enrolled in dog obedience training, which was gifted to us by the Animal Humane Society. We got a two month voucher, worth $175, complimentary, as part of the adoption. Sounded like a good thing to me! As Sam and I need training on how to best be together. We went to class the next evening. Turns out maybe I should have waited a week. Sam is still getting used to a new place, new humans, a new city, a new state. In short, there's a lot new in Sammy's life, including his new name.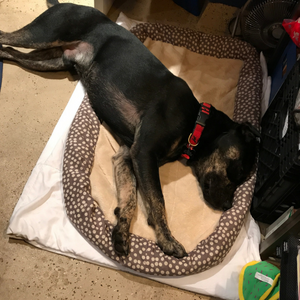 He's an athletic dog, and I'm doing a triathlon this weekend. On the docket was a 2.5 to 3 mile run. I decided to go for it and see how Sam would do. I am VERY pleased to report that he loved it as much as I did!!! He kept a great pace, and he didn't slow down even once. I confess, I slowed down a few times, after all, I did break my ankle and foot on April 2nd and I just started running again 6 weeks ago!
He did happily sack out when we got home!
It's interesting, I'm a single woman, never married, no kids, mostly estranged from my family, so having a dog is really affirming. Having one in my life reminds me that I matter and that someone notices that I look out for them, and he gets excited when I come home and when I take him out for a walk or run. Already I've fallen deeply in love with sweet Sam.
Thank you everyone for helping me welcome Sam into my life!
With love from Mari & Sam!!!