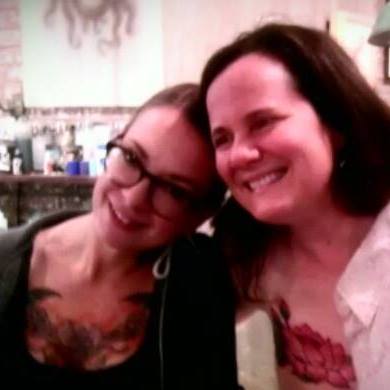 Breast Cancer Awareness Month has arrived in one of the weirdest years ever. We are still in a worldwide pandemic and it's not safe to gather in groups. This is the first year since 2013 that I have not spent most of the year and the month of October organizing Personal Ink Tattoo Day.
Like so many of us, about so many things, I feel loss and heartache this year. I have spent a considerable amount of time and energy every year since I got my mastectomy tattoo in New York City in 2013, organizing P.ink Tattoo Days. This year, practically nothing, HUGE loss.
Ashley Love is the gifted artist who donated her ink and her talent to put the pink lotus on my chest where my right breast used to be before I got cancer for the second time.
I had a unilateral mastectomy in August 2010 and for three years, I had a 9 inch scar across my chest where my right breast used to be. I stopped looking at myself in the mirror, in fact, I removed a few mirrors in my house. I had started to hate my body.
When my friend Sarah, who like me has type 1 diabetes, reached out to let me know that her neighbor Noel Franus had started Personal Ink and they were looking for mastectomy survivors to get tattoos over our mastectomy scars, I had to go for it.
I instantly knew that my first, and so far only, tattoo would be a pink lotus flower. I meditate every day and I love the symbolism of the lotus flower which is beauty that grows out of mud.
Love my body again
My wish going into this tattoo was that I would be able to love my body again. I hoped the art that Ashley would put on top of the scar would speak to me and remind me that what I had lost was NOT the essence of my womanhood, and over that difficult surgery could be newfound beauty. I was nervous about getting a tattoo, but I trusted the process. I felt called to have it happen.
I live in Minnesota and a diabetes colleague offered to let me stay in their apartment while I was in New York City to get the tattoo. I didn't have much money and this was a big help in making the event happen, because I didn't have to purchase a hotel room in NYC.
The biggest surprise was connecting with the 9 other women getting a mastectomy cover tattoo in the shop the same day I was. It was powerful and profoundly healing to be at Saved Tattoo together transforming and reclaiming our bodies.
After almost six straight hours of tattooing, I got up to see what Ashley had created and the first emotions were profound wonder and gratitude. Ashley didn't just cover the scar. She blended the scar with the lotus flower, the two enhanced one another.
I no longer have a breast, in its place I have a beautiful piece of art. These days, I love looking at the lovely lotus flower on my chest. Looking in the mirror brings me quiet joy.
Organize for others
About 4 months after I got my tattoo, Noel reached out to me and asked if I would be interested in organizing a Personal Ink Tattoo Day here in Minneapolis. With zero hesitation, I said, "Yes! Count me in!"
Every single October since then, I've helped coordinate the Minneapolis Personal Ink Tattoo Day. From 2014 to 2019, 6 years, 61 women have gotten a transformative mastectomy tattoo here in Minneapolis.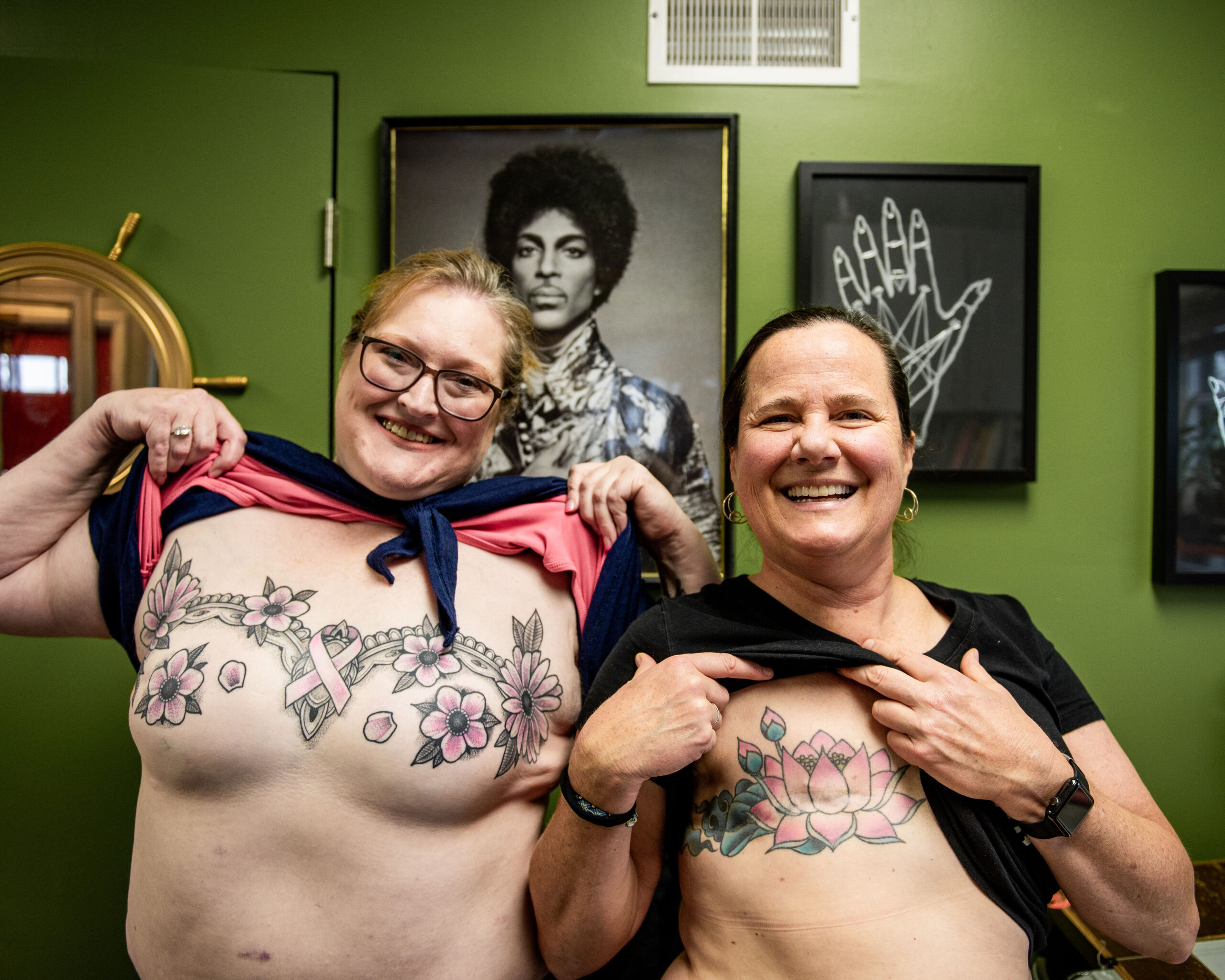 Being a part of the healing process for so many women who've gone through a breast cancer mastectomy experience continues to inspire and heal me. My sadness and heartache this year is because we are not having a Personal Ink Tattoo Day anywhere in the USA or Canada, as we have in the past. Too dangerous.
Get a tattoo this month
Instead we are promoting the art of the generous and talented tattoo artists who have participated in various Personal Ink Tattoo Days.
If you live in Salt Lake City, that's where Ashley Love is these days.
Here in Minneapolis, please check out Tailorbird Tattoo, Creative Images, BlackEnd Tattoo Atelier and The Canvas Tattoo Studio. All of these shops have amazing artists and a great vibe.

I never thought I would be good friends with so many tattoo artists, but I am! Plus the women who help me organize the days are some of my favorite people.
If you're a breast cancer survivor or previvor, consider joining the tattoo sisterhood
If you've had a mastectomy and are struggling with how your chest looks, please consider joining us at a Personal Ink Tattoo Day. You will join a powerful, healing sisterhood, and we'd love to have you join us!
Are you on my email list yet? If not, please join! I love to stay in touch. For giving me your email, I will give you a Self-Care Guide that I made just for you!