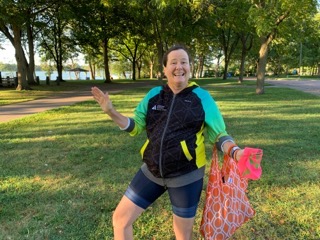 My sprint distance triathlon race report for this summer is quite a bit different than previous race reports. Coronavirus pandemic and all changed things up quite a bit this year. In fact, it might be a while before there's another in-person race. I'm hopeful races will be back in my lifetime, as I do love an in-person race!
Our made up "official" triathlon
At the last minute, about 2 weeks ago, my friend Jenny and I decided to reach out to all the women who'd been coming to the lake to swim at various times. A few of those women had also gone on bike rides with us. We created an ad hoc, last minute, do-it-yourself sprint distance triathlon!!!
Race goal – FUN!!!
Nine of us showed up at 7:30am on Sunday, August 30th at Lake Nokomis, site of the annual YWCA Minneapolis Women's Triathlon. Some of us did all 3 sports: swim, bike, run. Some of us did one or two of the sports. It was a free-for-all, mix-it-up, do-what-makes-you-happy sort of event!! 
Most years I have goals that I write down on a piece of paper. This year I had one goal:
Have fun!
I wanted to keep it simple. I didn't even write it down. Easy to remember!
Competitors show up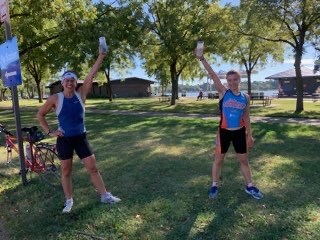 Interestingly enough, two of the women who were with us, Laura and Nadine, they are both serious athletes. Okay, I'm an athlete, and I confess, my level of "seriousness" is not that high. I love moving my body and I love being active. Being an active athlete is something I can control. Coronavirus pandemic makes lots feel out of control. Being an active athlete is my way of having control in my life.
I just don't have a deep drive to be fast. I like moving at a good speed, and that's about it.
Nadine and Laura on the other hand, they made the entire event much more serious. I'm glad they increased the seriousness of the event, as I learned something I needed to be reminded of: race conditions cause swim panic for me.
Swim panic
When we got in the water, I almost immediately started to panic. It's very subtle. I feel my chest compress and I subconsciously start worrying about drowning. Then my ability to keep swimming gets hampered. For this race, we only swam 400 yards, which considering how much I've been swimming 2-3 times a week all summer, 400 yards was easy. Nonetheless, the panic invaded. It slows down my swimming and my swim rhythm gets all wonky. Pretty quickly I start to feel like I can't breathe. As soon as that starts, serious freak out begins.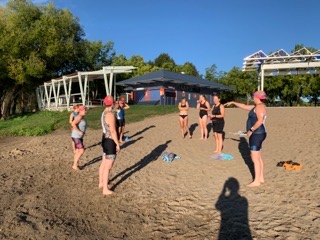 Feed the athlete, not the monster
Sport mental skills coach Carrie Cheadle taught me the concept, "Feed the athlete, not the monster," way back when I attended Diabetes Training Camp. Essentially, the idea is to interrupt the panic and intentionally feed the athlete instead of feeding the monster.
As soon as I realized I was in panic mode and thus feeding the monster, I immediately started talking to my athlete self. I said, "You're a good swimmer. You are strong. You swam all summer. You swim fast. You know how to swim efficiently. Relax. Trust the water. Trust your skills." As soon as I focused on my athlete self, I got things back in control and back on track. Quickly I got to swim like I know how to swim.
I realized it was super helpful to have race conditions practice. Regular swims don't remind me of race conditions. In the event we can do an Olympic distance triathlon next summer, I will make sure that in advance of the actual race, we do a few practice races.
Bike delight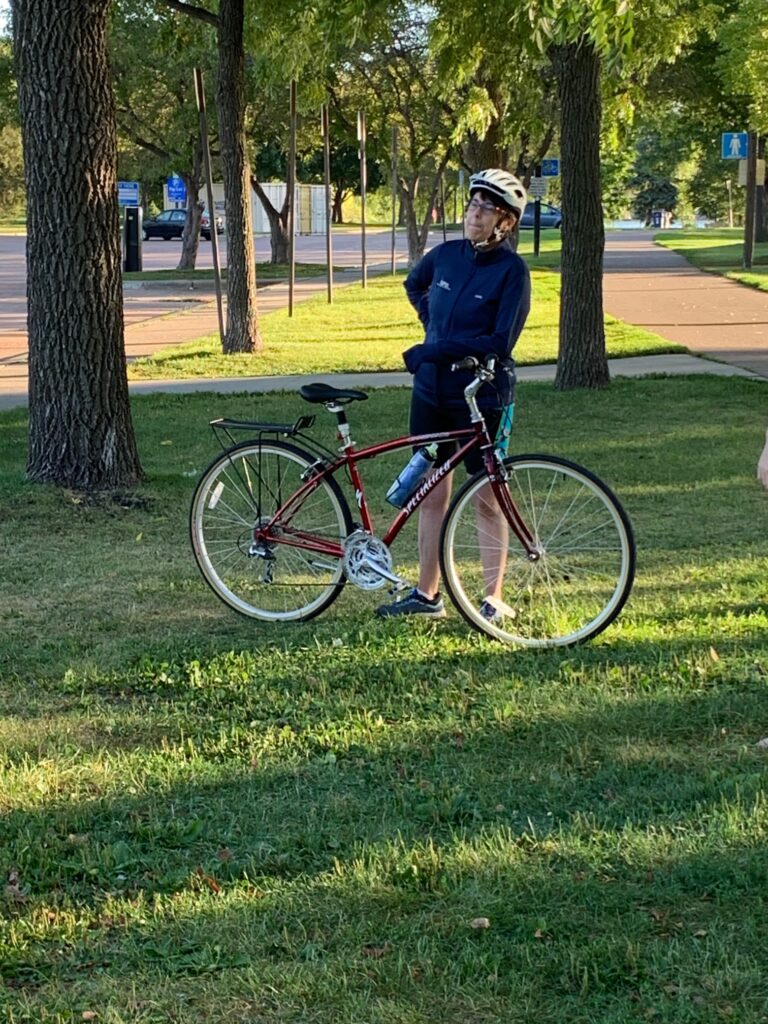 The 15.5 mile bike ride was delightful. A few of us rode together and we talked and laughed along the way. Several times I realized I was having a lot of fun!! I was riding my old LeMond steel bike that I got in 2000. It's 2020 and my bike is 20 years old. I continue to love every mile I bike! Maybe you can relate.
Run success
Jenny and I ended up finishing the bike together and as we finished and locked up our bikes and put on our run shoes, both of us realized we hadn't done a single brick workout all summer. A brick workout is when you bike and then immediately run. Essentially, the first mile of running your legs feel like bricks.
Indeed that is exactly how my legs felt! Luckily because Jenny and I forewarned our athlete selves, that first mile was do-able. Jenny hurt her knee cross country skiing this past winter, and she's slowly regained her strength and she is on a run-walk schedule. I prefer and love run-walk, so we agreed to do a 3 minute run-1 minute walk rhythm. It went smoothly and again, we had a lot of fun!!
In fact, as a result of running with Jenny, I realized I can train AGAIN for a 10K race. More on that next week!!!
Mission accomplished! and a Looking Sharp picnic to celebrate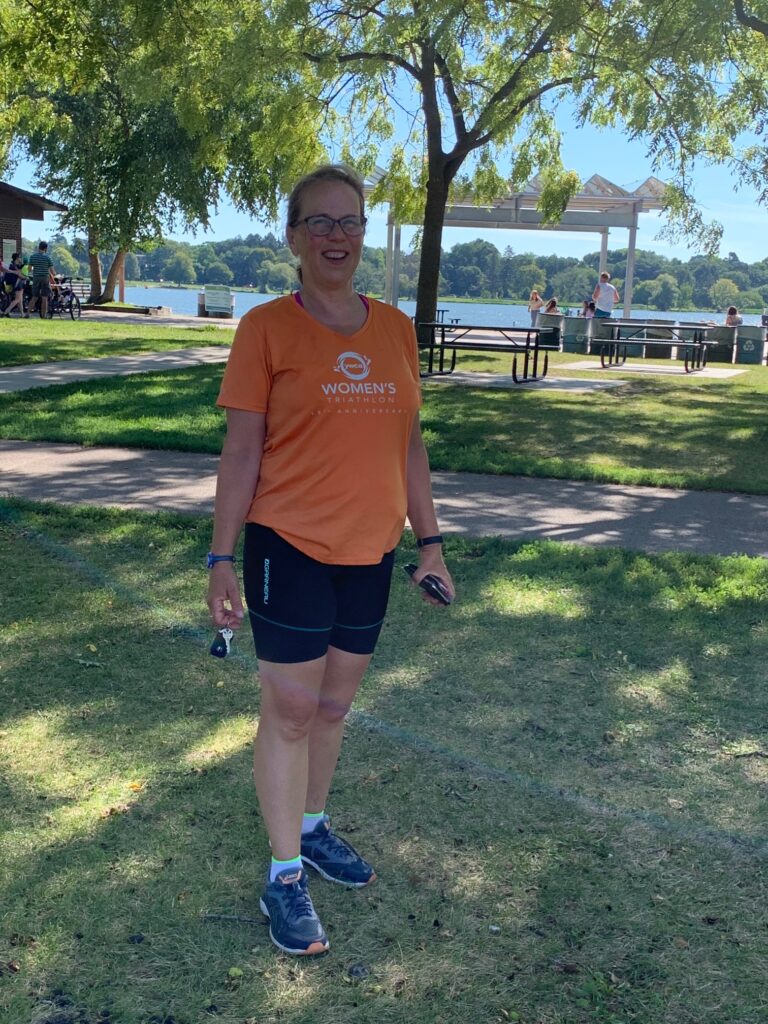 Most of the 9 of us who did the event stayed after for a socially distant picnic. Jenny made a very tasty sweet potato veggie frittata that she shared with all of us, hand sanitizer on the side! The name of our group is Looking Sharp and we felt very accomplished as we enjoyed the end of summer and planned for weekend bike rides until the snow falls!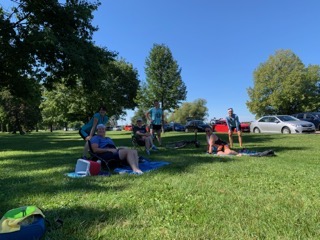 Thanks for reading and for being along for the ride!
Did you do any fun events to wrap up the summer? If so, please tell me about them here in the comments.
And if you aren't on my email list, sign up right here! I love staying connected. And when you give me your email, you'll get a self-care guide I created just for you.