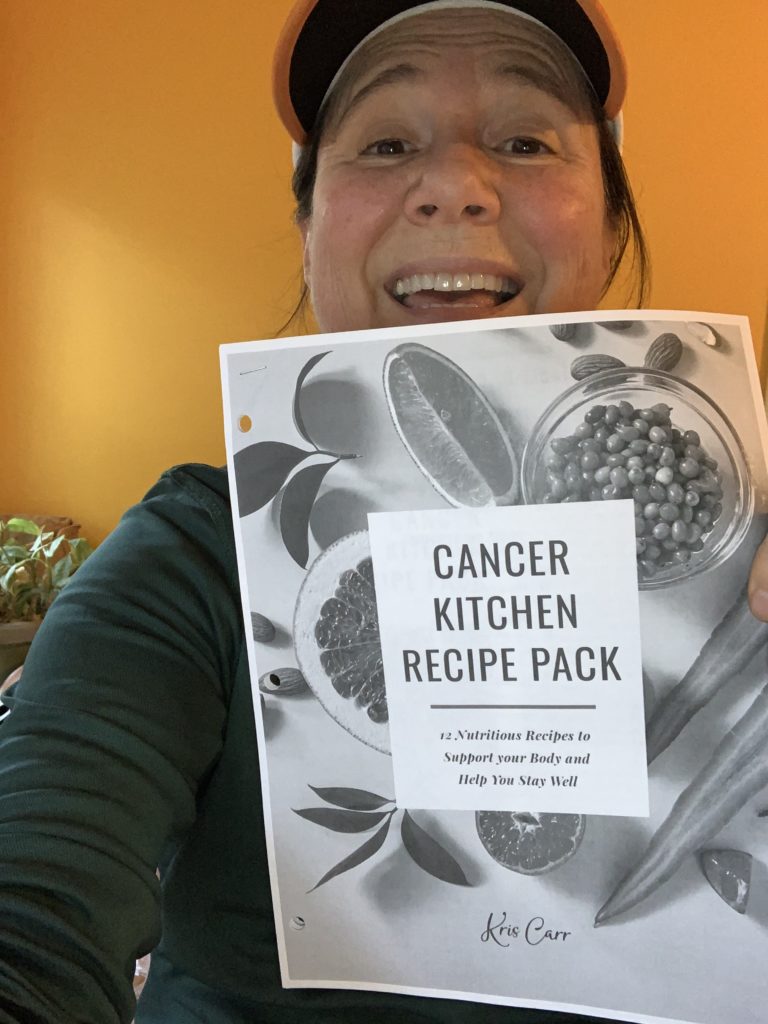 Many of us wonder what to cook and what to eat. I do. On top of that, I'm a no-meat, no-dairy, no-gluten athlete, and figuring out tasty food is a weekly challenge. I made a promise to my dietitian in 2010 when I gave up dairy, meat and gluten that I would make an effort to cook 2 new recipes every month. I have kept that promise for almost 10 years. As a result, I regularly look for new yummy things that fit my criteria. And are easy!!
In addition, I am a bit of a penny pincher. I like to save money however I can. As luck would have it, cooking and eating at home is both healthy and less expensive. Imagine that!
I am on Kris Carr's email list and the other day she sent a new, no-cost resource that I immediately downloaded. Then I went to the grocery store to get a few items. I made a veggie tofu stir fry for dinner the other night and YUM!!! Super healthy and super tasty!
Kris Carr, a Stage IV cancer thriver, wisely says that food is powerful medicine—it heals, comforts, uplifts, energizes and so much more. You deserve to enjoy it. That's why Kris created the free Cancer Kitchen Recipe Pack. Download 12 nutritious recipes to support your body and help you stay well!
I met the fabulous Mellie Brackett at the writer's marketing conference I went to in early September 2019, the Tribe Conference. Mellie captured my attention because through her new blog and website, she teaches how to cook. BRILLIANT! Her most recent blog is about a tasty rice alternative: BUTTERNUT SQUASH! Extra yum! Here it is for you!
Do you cook? Do tell me!! And how do you keep it interesting and fun?
Happy cooking!