This pandemic winter I have discovered I like winter running!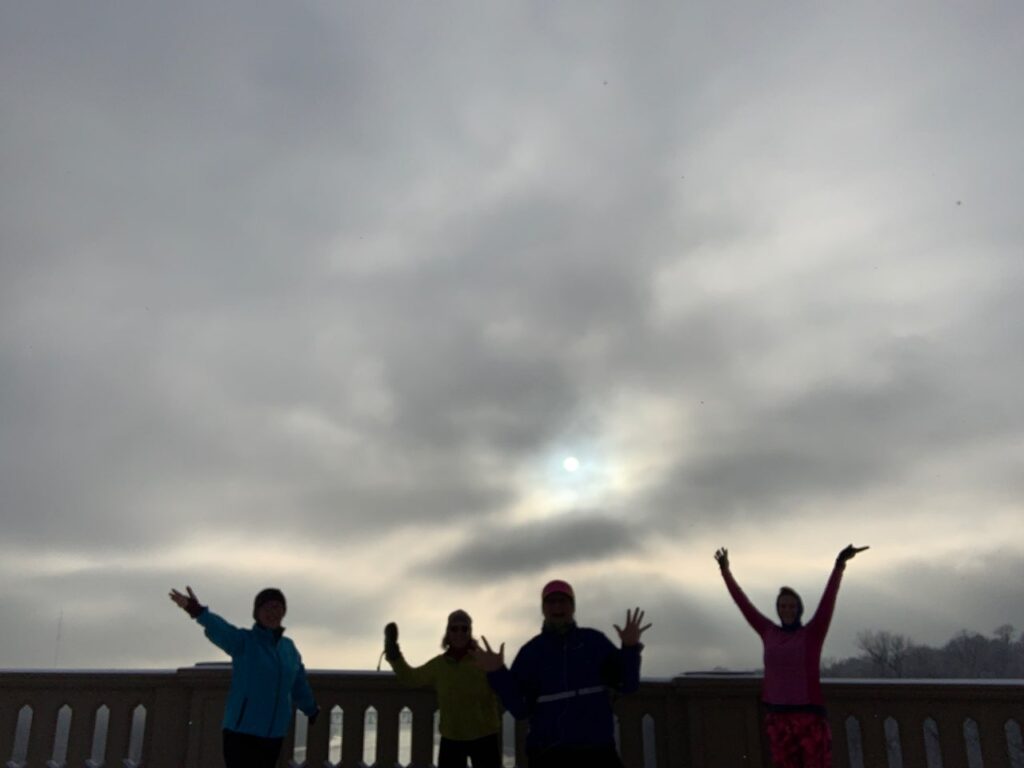 Merino wool magic
Purchasing a bunch of merino wool gear has made all the difference. I now own three merino wool tops and a pair of merino wool long underwear, also known as a super warm base layer. Plus I got myself an REI lightweight pair of merino wool sock liners and a pair of silk sock liners that go underneath my merino wool socks. You got that right, two pairs of socks inside my running shoes keeps my tootsies nice and warm!
The side benefit of running all winter is that I get to see my triathlon pals live and in-person at least once a week. Considering the only other person I see in person these days is my housemate, seeing Jenny, Monica, Marie, Nadine and Brooke with consistent frequency has been a saving grace to my sanity and sense of belonging and connection.
Beginner Mind Runner
In previous blogs I've mentioned that I don't consider myself that much of a runner. Often I fall out of the running habit and then when I get back into it, it's like starting over again and again and again. Thankfully I have a tendency to embrace the Zen concept of the Beginner's Mind. As a result I don't get too frustrated when I have to begin, again.
Stay fit all year
That said, I do wonder what would happen if I just became a year round runner. My pal Jenny and I recently talked about the idea that Sally Edwards talks about, "just never get out of shape." I like that idea! Just make sure that all year round you keep your body fit and strong.
Race Motivation
Having a race scheduled helps me stay motivated and focused. These days most of the races are virtual. Thankfully the virtual races still have swag and medals!!! Which helps keep things fun. Jenny, Brooke and I have decided that we will do the Get In Gear Half Marathon on Saturday, April 24th, 2021. Good chance it will be a virtual event. That's okay, we can get a few people to help us with food and hydration!!
Run-Walk-Run
We've been using the Lolo 10K app from Jeff Galloway with great success. It's true, it's an out of date app, thus there are serious problems with it. However, it does have an excellent training plan of miles, tempo runs, speed work and long slow distance runs. Best of all, for all our runs, it lets us do a 2 or 3 minutes run rhythm with 30 seconds of walking. I love the run-walk-run method!!
Half Marathon Race
April 24th is about 15 weeks from today. I took a look at Hal Hidgon's Half Marathon training programs, which I've used in the past. They are available for no cost and they are good. I decided to purchase the $14.99 Half Marathon app from Jeff Galloway. (It only works on iPhones, sorry my Android friends.) Jenny happens to already own this app. That will keep us on the same program. It's a 17 week plan, so we are in it as of right now! Thankfully we've been running steady since September, so jumping in on Week 2 will be okay.
What gear to wear when it's cold
Back to my merino wool obsession. Do you wonder what gear to wear when you run outside? Living in a cold climate makes this a complex situation. After all, once you get going, you do start sweating. But getting started when you're cold is HARD!!
A few years ago I found this very helpful chart that's adopted from Jeff Galloway's Book: Marathon… You Can Do It! I added a few of my own notes and commentary to it.
This guide has helped me quite a bit! I hope it helps you get out there running all year too!
| | | |
| --- | --- | --- |
| Degrees F | Degrees C | Clothing Recommendations |
| 60+ | 15.56 | Tank top/singlet and shorts |
| 50 – 59 | 10 to 15 | T-shirt/tech shirt and shorts |
| 40 – 49 | 4.4 to 10 | Long sleeved shirt or short sleeved shirt with arm warmers (I use bike arm warmers!) shorts or tights depending on how cold it feels and if there is wind, gloves or mittens (I wear the kind that has fingers with a glove wind cover that is optional.) I also wear a headband that covers my ears (I HATE cold ears!) |
| 30 – 39 | -1 to -4.4 | Long Sleeved shirt (not merino wool at this temp) with a second shirt over that, tights and shorts, heavier socks (smart wool or darn tough are favorite brands) mittens/gloves (I wear mittens as my fingers stay warmer) hat or headband over the ears. If it's super windy (that cold wind) I will also wear a wind jacket (I use my cycling rain coat by Showers Pass) |
| 20 – 29 | -6.7 to -4.4 | Moisture-wicking top and thick long sleeved t-shirt (I wear my light weight merino wool now!), tights and shorts, heavier socks, mittens/gloves, hat that covers ears. Again, at these lower temps, I would also wear a wind resistant top. Since I hate my face being cold, I would likely have a neck gator or two with me and tuck my face in it periodically. |
| 10 – 19 | -6.7 to -1.1 | Moisture-wicking top and thick long sleeved t-shirt (time for 2 merino wool tops!!), tights and shorts, wind resistant outer layer (for both top and bottom) heavier socks, thick mittens (finally they say mittens and not gloves!) thick hat over ears. |
| 0 – 9 | -6.7 to -12 | Two moisture-wicking tops, thick tights and shorts, thick underwear, wind resistant outer layer… Gore-tex or similar fabric) thick mittens (or gloves) face mask, hat that covers ears, Vaseline or Bodyglide on exposed skin (this works! I've done it!!) |
| Minus 1 – Minus 15 | Below -12 | Really, are you outside running at these temperatures?! If so, the same as the above, just be sure you are keeping your feet warm. Hand and toe warmers would be an excellent addition! |
| Minus 20 and below | Below -18 | Add layers as needed, or run on a treadmill if you have access to one. |
If you're not on my email list, please join today! I love to stay connected to you!
Please let me know what your winter/cold weather run strategies are! I love to be inspired by your wisdom too!