In 2013, I've taken some big leaps of faith. Number one on the list is that I've decided it's time to GO BIG and launch a for-real speaking career. This website is the landing place for that. 2019 Note: This website is for so many things now!! Thanks for being here!!!
I've also engaged with George Marut, my agent. (Yes, I have an agent, can't do this alone.) Note from 2019: I didn't successfully re-launch my speaking career in 2013. I no longer have an agent, that was short-lived. One day I will re-launch speaking! At this moment, I'm just not sure when that will be!!!
I called a long-ago still Facebook friends friend Scott Greenberg and had a conversation with him about how to get things going. One of the first things he said to me when we were voice-to-voice was, "It's about time. Mari, you've been depriving the world of some really good speeches for a while now."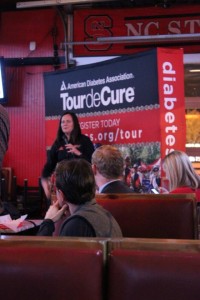 I have a gift and a curse you see. One of the reasons I'm so good with teenagers (little kids gravitate to me also) is that I have a lot of patience. I like to think of it as a Beginner's Mind. After all, I meditate daily. Note from 2019: I have been meditating daily every single day since 2013!!!
It's one of the reasons, along with some mad listening skills, that I am a good executive coach. I am okay that it can take people a while to get a thing. I am patient with the learning process. Mostly this is a gift.
The shadow side of the gift of a Beginner's Mind is that I tend to continually see myself as a beginner. Which creates an interesting situation in my life. Mostly I have a hard time knowing what I'm good at, or shall I be so bold, what I'm an EXPERT at doing.
In 2013, I took stock of my life and realized that something I am good at, in fact, going out on a limb here, I'm an expert at, is speaking. Speaking and training. As a teacher, which I was in a high school classroom for 6 years, I was good. And then, through all of the various twists and turns in my professional life, as I look back, I kept finding myself "on stage."
So, here I am, doing what needs to be done. I've spent years coaching people to listen to their inner calling. To listen to what their soul most wants to be doing. I am finally, finally listening deeply to my own self. Note from 2019: I continually practice listening deeply to my own self. It is a continual learning process! I love all the insights I keep gaining. Do you listen to yourself?? I hope so! 
With profound gratitude to YOU all for being here as I make my way on this new old path!"
"You wander from room to room hunting for the diamond necklace that is already around your neck." -RUMI
This post was first published here on this website on May 19, 2013.