Have you found your Inner Athlete?
Do you worry that you have too many health conditions? That you're too old? That you have too much body fat?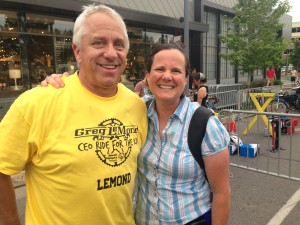 I was in my mid thirties before I found my inner athlete. It was a long and challenging path. I have been through a lot, and the road has had many bumps and curves. And despite cancer, diabetes, asthma, and PTSD, I can proudly say, "I am an endurance athlete."
Need some motivation? Need some inspiration? Need to see the path on how to get there? Need some celebration once you do get out there and make it happen?
Yes? Then you've come to the right place!!!
I'm here for you! I know first hand, how hard it can be to find your athletic self and to keep moving.
I am ready to motivate, inspire and demonstrate HOW. I have a proven track record that helps individuals and groups get in gear and get active! Moving from victim to athlete.
I was the Director of TeamWILD Athletics for the six years it existed. I am the Founder of the Red Rider Recognition Program of the American Diabetes Association Tour de Cure cycling events. Red Riders are the now more than 10,000 cyclists with diabetes who ride in the more than 85 Tour de Cures.
Welcome to my website! Please check out the blog and the resources! And for sure, sign up for the newsletter. I want to stay connected to you. I believe in your athletic self!