Oh no! I'm wounded!!
How to stay fit with an injury??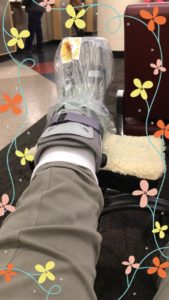 On April 2nd, I went out for a run. It had started snowing. The sidewalks weren't slippery yet, but a bunch of snow had accumulated. Thus, I did not see the uneven sidewalk and I hit my left toe against it hard, which caused me to fall and twist my ankle and foot. The end result is that I broke two bones: one in my ankle one in my foot. Both are non-displaced, so no surgery will be required. Thank goodness.
Just time to let the bones heal. Thus, no more training for the moment for me. BUT, I will keep moving! Chair dancing, weight lifting, and swimming again, as soon as they'll let me! I will blog about this journey!
I will send out an email to all subscribers to let you know a new blog about fitness, wellness and navigating the challenges of good health is up and ready for you! I have made a commitment to blog every week. After all, setting goals and creating action steps is what being a successful endurance athlete is all about. Sign up, I want to stay in touch with you!
Thanks for stopping by and saying hello! To learn more, click here.

Since you're here, please sign up for my email list so we can stay connected.  As always, I believe in your beautiful, amazing athletic self!