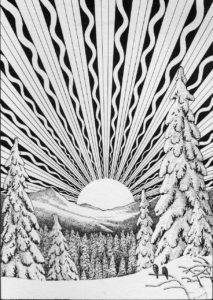 It's Winter Solstice tomorrow, the longest night of the year. Here in Minnesota, the days are short and darkness is serious. Hibernation calls as does my bed and hiding out with a book. Luckily, I have a BIG goal in front of me. I set the goal to be finished with Draft 1 of my book before the end of 2017. And I am going to make it!
That said, I have to keep reminding myself that Draft 1 doesn't mean totally done. I have to breathe and allow that editing is serious business. I just hit 61,000 words! I don't yet have the stories of two of the athletes I'm featuring. I won't get their stories until the start of 2018. I am breathing into the not perfectness of that too. What I do have is every chapter is in great shape. I have a good story ark. I have excellent how-to stories and guidance for how to become an endurance athlete in the face of age, weight and health challenges.
It has been a HUGE challenge to get this done. I've been working on this book for just about seven years. I don't yet have an agent and I don't yet know which publishing house will print it. In fact, I don't even have a name for the book! Instead of focusing on all that I don't have, I am focusing on all that I do have. This is the Gratitude Mindset that I have been embracing for a few years now.
Along those lines, I am very happy to share the podcast I did with Tony Signorelli just last week. Tony organizes and runs Blue Harbor Center for the Arts. I've been going to Blue Harbor Writing Retreats and writing sessions since June 2017. And I love, love, love Tony and the community he has created. His new podcast is called Minnesota Minds and this podcast celebrates Minnesotans who are in our midst writing, performing, thinking, leading, and changing the world.
We talked about Lean In Together Minneapolis-St. Paul and how having an ambitious goal is what got me moving on my book this year. I highlight a few key strategies for getting this book done and for how to become an endurance athlete in the face of major health challenges.
I am excited to share Minnesota Minds with YOU! Let me know what you think!
Happy Holidays!
Please follow and like us: