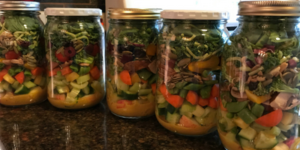 I love salads. Interestingly enough, my body doesn't like cold salads when it's cold outside. As a result, I only eat salads when it's warm outside. At long last, winter has loosened its grip on Minnesota. And thankfully, I'm back to my Mason Jar salads!!
For the past two weekends, I've made lunchtime salads for the coming week.
Please note, I chop the vegetables as meditation. As I chop, I visualize how healthy and nourishing the veggies are for my health and wellness.
I add these ingredients from the bottom of the jar working my way up to the top:
2 tablespoons of salad dressing. Currently I'm into a turmeric dressing from Trader Joe's
½ of a small organic apple
½ of a mini organic cucumber
The apple and cucumber go at the bottom of the jar so they soak up the dressing a little bit and keep the dressing at the bottom of the jar!
About ½ of a large carrot chopped up
2 – 3 farmers market radishes
1 stalk of organic celery
About 5 or 6 organic snap peas chopped up
2 – 3 organic mushrooms
2 – 3 cut up little bunches of broccoli
2 – 3 cut up little bunches of cauliflower
4 – 5 cut in half black or green olives
3 – 4 organic grape tomatoes cut in half
A few dried berries
About half of a handful of roasted pumpkin seeds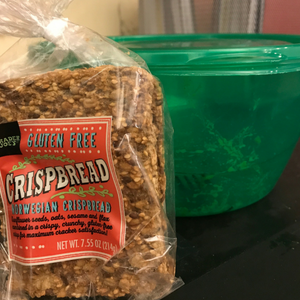 Then, the grand finale: greens! I buy a bag of organic power greens from Trader Joe's along with an organic kale/slaw mix and I shove a big handful of them into the Mason Jar and screw on the lid. Additionally, I open a can of organic black beans or garbanzo beans or white beans. I rinse them off and put about ½ cup of beans in another mini Mason jar and I bring the beans along with me. I first dump the salad into my big green plastic bowl and then dump on the beans.
The whole meal, along with two gluten free Norwegian Crispbread crackers (6 grams carbohydrates per cracker) is about 35 grams of carbohydrates! A fabulous, filling, healthy lunch!!
I make 4 or 5 Mason Jar salads on Sunday afternoon for the coming week. Yes indeed, they taste really good on Friday, when I eat my last one of the week.
For those of you that eat meat and/or dairy, here are a few more Mason jar salad ideas. One is from The Ambitious Kitchen, the other is from Hurry the Food Up.
Do you get all your veggies in a day? How do you do it? Tell me in the comments below!!! And, do you eat salads regularly? If so, tell me your favorites!
In veggie love,
Mari
Please follow and like us: