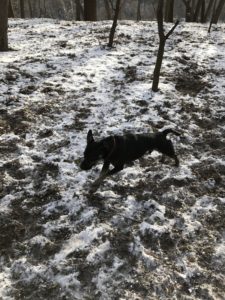 I'm back! Yes, it's been a tad over two months since I wrote a blog post. I have lots of excuses and as of today, none of them much matter. At long last, I feel ready to resume my weekly posting and I've even picked up the editing process on my book.
Here's one explanation for you. Sam, my new dog, arrived in my life on August 5, 2018 and to put it in simple terms, he's a high maintenance pup. In mid to late September, after taking him to the vet a few times for routine care, it became clear the food I was feeding him wasn't working. So, even though I don't eat meat, I started cooking meat and rice with a few veggies for Sam's tender tummy. Turns out grocery shopping and cooking for a dog takes some serious time and  energy!
Not to mention Sammy's boundless athletic energy. Bare minimum we walk an hour a day, two 30 minute walks morning and evening. At least two, often three days, we drive the few miles to the off leash 7 acre dog park which he loves, and where he does extensive up and down hill running!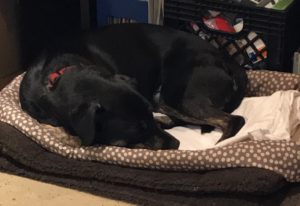 My step average for the past two months is well over 12,000 and almost all those steps are alongside Sam the love dog!! Plus once a week we go to dog training classes at the Animal Humane Society. Turns out Sam's smart brain needs regular workouts too. As I write this post, I can see Sam fast asleep after our morning at the dog park. He regularly makes me smile.
The big reason I needed a time out from writing wasn't really all the time investment Sam takes. What rocked my heart, was that I needed to process some family grief. In essence it was like a pair of rose colored glasses got pulled off my face and I realized I am on my own. I have people in the world that I am biologically related to, and many of them are good people. And, the bottom line is that I needed to feel the loss and integrate the reality that I don't have connections with biological family that includes regular hanging out and supporting one another.
Writing that just now required a very deep breath. And a loving glance over at sleeping Sammy boy. Having a strong connection to an animal reminds me to stay grounded and reminds me that I am connected to people and I do belong. It can be easy to forget that.
I hope YOU also remember that you are connected and you too belong. We are entering the holiday season, which for those of us with non-existent or minimal biological family, this season can hurt. I am so grateful for the amazing, wonderful friends in my life. The near and the far friends who reach out and to whom I reach out for connection. I am also grateful for you, who are taking a moment to read this little blog. Thank you!
In short, I'm back!
See you next week!
With love,
Mari
Please follow and like us: