Today, November 12th, is my 52 ½ Birthday!!! For some reason, I have always loved half birthdays! It's just another day to celebrate a good life. To celebrate the day, I am here at Lake Owen in Cable, Wisconsin at my fourth Blue Harbor Writing Retreat. I'm here with Tony who coordinates these wonderful retreats. He is working on his amazing post-capitalism book series. Also here is Shirlene, writing a mystery novel. Dana, who is writing a short story, she got finished with draft one! And Maya who is very focused on her many writing projects.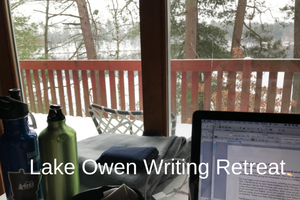 It's been an outstanding weekend. I analyzed everything I've finished and have yet to write in my book. I got started on ALL my chapters! This was a major accomplishment. The table I am sitting at overlooks the recent snowfall and out over beautiful Lake Owen. I have been very inspired. Despite wanting to crawl back in bed to hibernate for the winter! Yes, I am a fan of slowing down and resting during the cold winter months. My Ambitious Goal for 2017 was to completely finish with Draft 1 of my book. I am on target to accomplish this goal. Whew.
Looking ahead to 2018, it appears that finishing Draft 1 of my book doesn't mean the book is ready to be made into a sell-able, distribute-able book. I have to remember that for the first edition of my first book, Open to Outcome, we went through 26 edits! And the book was a grand total of 120 pages long. I may have found an editor for this current book. I confess, I am very happy about that. My goals for 2018 will include to move closer to figuring out a publishing plan and to re-launch my speaking career. I get nervous just stating these two items. Getting nervous about goals, to me, that means I'm on the right track.
I don't know about you, but for me it is easier to hide out in my routines than to step out and lean in to courage and bravery.
What are you leaning in to? What calls for you to be brave these days? I love hearing from you!
Oh yes, another goal, personal in nature, not an ambitious goal!, for 2018 is to get active on at least one online dating site and GO ON DATES!!! And that goal does indeed scare me! I've wanted to date for a few years now, and instead of hanging out with men I might date, I hang out in almost exclusively women environments. That doesn't make it easy to meet men I might like to date.
That's enough confession for my half birthday!
Thanks for reading and being a supporter! I sure appreciate you and your awesome self!!!
Please follow and like us: