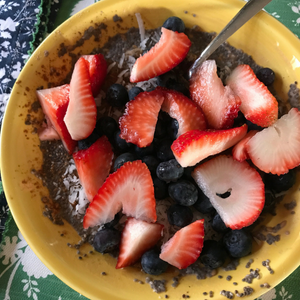 I love breakfast. Every morning I wake up ready to get the day going and I enjoy the process of making breakfast and eating to kick off the day.
What about you, do you love breakfast? I've met people who don't like to eat in the morning. I get it that we are all different.
That said, as a person with type 1 diabetes, it's easy to struggle with blood sugars and breakfast. Many of us have insulin resistance in the morning. I struggle with this, and thus I have had lots of challenges with blood sugar spikes in the morning.
Luckily about a year ago, I found the book Bright Spots and Landmines: The Diabetes Guide I Wish Someone Had Handed Me, by Adam Brown. In it, he described his favorite breakfast: Chia Pudding.
I gave it a try and it has become my favorite breakfast too!
Here's how I make it:
¼ c. organic chia seeds (I get mine from Trader Joe's)
1/8 c. golden flax seeds
½ serving of Sunwarrior organic vanilla protein powder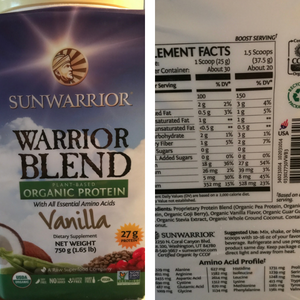 ¼ c. of walnuts
½ cup of water added to all of the above ingredients.
Then I add the following items:
Dash of cinnamon
Dash of cardamom
Dash of organic coconut flakes
And finally to top it all off, I add almost a full cup of fresh, organic berries!
In all, this chia pudding is about 400 calories and about 28 grams of carbohydrates.
I take my insulin about 20 minutes before I eat the chia pudding and consistently I have a blood sugar flat line on my continuous glucose monitor all morning. For me, chia pudding is a glorious filling breakfast!
To top off my morning, I usually have a mid-morning snack of raw veggies! The veggies, along with the chia pudding, are dense enough to keep me full all morning.
Tell me, what you eat for breakfast? Please, let me know in the comments! I'm curious.
Please follow and like us: