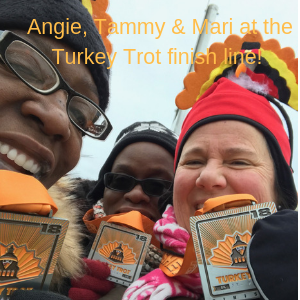 I love races! I don't love holidays, but I do enjoy movement and race companies like to create races on various holidays. Here in the USA, Thanksgiving is a good day for 5K races. All the eating that happens this day is excellent motivation to start the day off with some running and walking.
I haven't gotten together with biological family for Thanksgiving in many, many years, so not having contact with my biological family for this holiday isn't new. I've been living in Minnesota since September 2012 and starting on Thanksgiving 2014, my friend Tammy McLemore and I have been entering and doing the Saint Paul Turkey Trot every year. As you know, I have type 1 diabetes and Tammy has type 2, so we especially like to kick off the day with movement.
Tammy was looking at all the various Turkey Trots in the Twin Cities and she selected the Saint Paul race because they give out beautiful medals at the finish line. Tammy likes medals! I agree with Tammy!
This year, I was reflecting on why it's so wonderful to do the Turkey Trot every year. I came up with three reasons. What do you think? Let me know your thoughts, I love hearing from you!
Reason #1 to race on a holiday: You start the holiday with movement with others who care about their health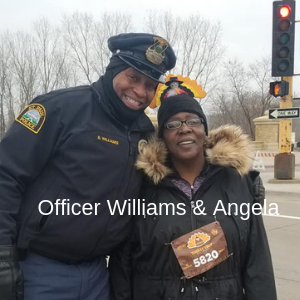 I love seeing the fun costumes that people put together for the Turkey Trot. One group of five all had turkey outfits on, they made me laugh out loud! In general, being around people who are happy and are doing something healthy and wise to get the day going is just AMAZING!
One police officer is on one particular corner every Thanksgiving. Seeing Officer Williams giving high fives and cheering everyone on every year, brings a big smile to my face. In short, an instant sense of community and purpose is created.
Reason #2 to race on a holiday: You start the holiday with a sense of accomplishment
Crossing that finish line and getting that medal makes me smile ear to ear! The feeling of having done something healthy and good for me stays with me all day. It will stay with you too!!!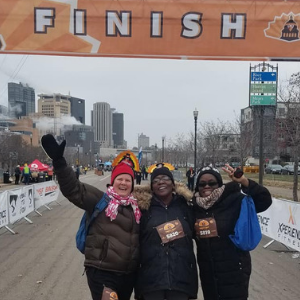 This year Tammy and I did the Turkey Trot with Tammy's developmentally delayed sister, Angela. This was her first 5K EVER!!! This was a major HUGE accomplishment. Seeing Angela's joy and delight at doing the event was extra magical.
Reason #3 to race on a holiday: You get a medal and a fun t-shirt to commemorate the event
I confess, I am a major fan of athletic wear. In fact, one of the best things about owning Team WILD Athletics LLC for six years was that I got to wear athletic clothing for nearly everything. It's true, athletic clothing is my all-time favorite clothing. And for the $30 race entry fee, for the Saint Paul Turkey Trot you get a wonderful long sleeved athletic shirt!!
Plus, you get a wonderful medal, Tammy's favorite!! Here are the five medals I have in my Turkey Trot collection so far!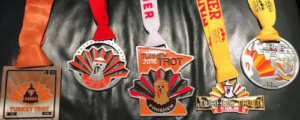 Thanks for reading!
Do you do races on holidays? I'd love to hear your thoughts on holiday racing!!
Please follow and like us: